Have you been searching around, looking for the best non alcoholic bars in London? When we think of bars, perhaps unsurprisingly, we immediately think of alcoholic bars with big, bold nightlife – but just because alcohol is the norm on a night out doesn't mean it has to be there to make or break the evening! With this in mind, more and more people are instead turning to non alcoholic bars for all of the fun and the nightlife, without the alcohol consumption. 
But even without non-alcoholic bars, you can still find some amazingly creative drinks in standard bars as the list of alcoholic alternatives continues to grow. Individuals now seem to be turning more for these options if its for a midweek drink or if they just decided they want all the taste and no hangover.
Still, while non alcoholic bars can offer an excellent opportunity, there's still a significant challenge; to get the best from your non alcoholic night out, you still need to start with the best non alcoholic bars who put in the effort of making the experience of ordering alcoholic alternatives as good as the alcoholic versions. 
With this in mind, we decided to do some research and a little digging through our readers to check out some of the best (and not so great!) non alcoholic bars in London to help you find the top non alcoholic bars/mocktails on offer that you absolutely need to try!
We scouted high and low to find these hidden gems across London and we are still completely open to suggestion if you find a place you think we should try!
Please also bear in mind that this isn't a map of London and the bars to visit in each region, but purely the bars either our team have tried or our non-alcoholic readers have recommended to us.
The 7 Best Non Alcoholic Bars in London We Feel You Need to Try
From fully non alcoholic bars to bars that serve up a myriad of delicious, authentic non alcoholic drinks, these top 7 destinations should definitely be on your mind the next time you go for a night out. Even if its a pit stop mid session or if you are looking to go for a quiet, but quality softer drink. One of these will be sure to take your fancy:
The Heads and Tails bar, located in West Hampstead, doesn't leave its non alcoholic customers out, by any stretch of the imagination. The stunning and airy cocktail back is a much-loved option, but don't worry; there are plenty of non alcoholic cocktails and drinks to make sure your night out stays memorable (for all the right reasons). Its "Old Pals" drink is perhaps its best known non alcoholic drink, combining the sweetness of elderflower as a wonderful gin alternative with a kick of botanicals and a fresh citrus punch, we recommend this one for the summer evenings. Alternatively, their French Pearl Martini is also a wonderful option for those darker nights or even to get that little pick me up you might be needing during the week.
Want a more sophisticated night out to remember? The Library Bar at Lanesborough is the perfect option to consider! This ahead-of-the-game bar actually made the jump to serving more non-alcoholic options a few years ago, creating a brand new menu that featured authentic, irresistible versions of its classic cocktails – minus the alcohol.
Their Upside Down Fizz is the perfect bubbly option, while their Genuine and Tonic – no guesses needed for what this stands in for – offers an amazing experience that won't leave you feeling tipsy. My personal favourite however was the X-Rated which is for the citrus lovers. With bursts of passionfruit, mango and vanilla this is almost like a pudding in a drink, why highly recommend it.
The other thing that you have to check out at the Lanesborough is the fantastic decor inside. From chandeliers to hidden rooms to lampshades, the Lanesborough has a real character to it almost taken out of an episode of Bridgerton. The service is world class and they really do make an effort to give you that experience from the entrance that you are somewhere that has high regard for its customers.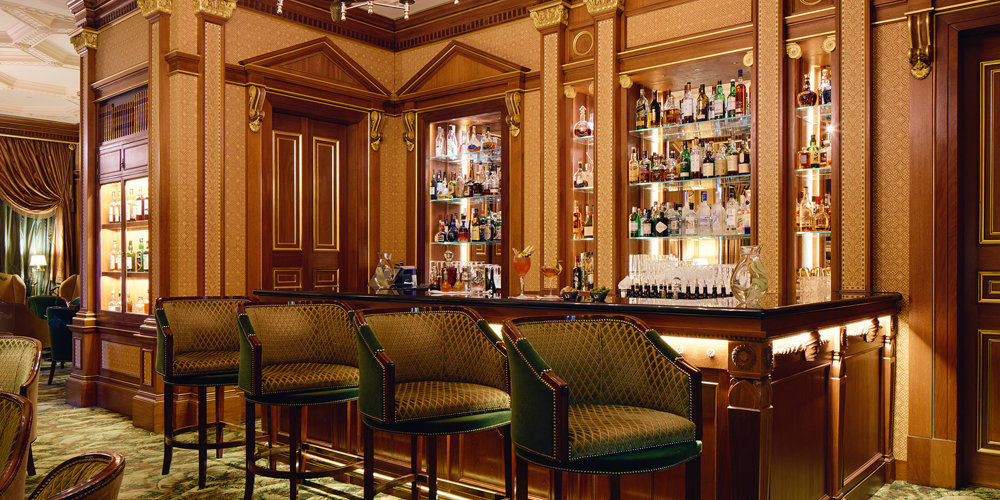 Bling, luxurious, and sophisticated – you'll need to be prepared to splash the cash with a visit to the magnificent Connaught Bar. However, if you can justify the price of these ultra luxe drinks and dishes, you will be in for a treat that's unlike any other.
No expense is spared at the Connaught Bar, and while guests have to pay for this luxury, we're pretty confident it's worth every penny. Their phenomenal range of mocktails is just as luxurious as the real deal and served with the same flair, artistry, and professionalism as a genuine alcoholic cocktail. After all, the guest experience is everything at the Connaught Bar and so the artisan bartenders here will still pull out all of the stops to make your night incredible, no matter what your choice of tipple might be.
Although they do not list any non-alcoholic options on the menu, you can actually ask the bartenders for mocktail versions of most of their cocktails and they are talented enough to make a great tasting alternative. We rate the Connaught Bar purely on the experience and exceptional service that goes into making those alcoholic alternative gems.
It's no surprise that the Book Club in Shoreditch is kept a little quiet – it's one of East London's best-kept secrets (but we're more than happy to share it with you!) The Book Club at Shoreditch offers some of the most incredible non alcoholic cocktails and drinks around. What's more, their incredible food menu and dining options only heighten this further – we recommend the two-for-one pizza night on Wednesdays! Plus, with countless events on the go at any one time, you'll never be short of things to do with a visit to this iconic and revolutionary sophisticated East London bar.
The same as the Connaught Bar, the Book Club in Shoreditch are easy going with changing the alcohol for an alternative if you ask them too.
We did recommend that if they could add non-alcoholic options as a part of their drinks menu, we believe they would actually see an increase of younger demographic coming in due to the amount of students looking for a cheaper and more regular night out. We spoke about how much the younger demographic is turning towards alcoholic alternatives here.
As soon as the word "Mayfair" is in the name, you know you're in for a big treat – and, of course, the 34 Mayfair is the iconic destination for a luxurious and sophisticated London night out. 
What's more, the 34 Mayfair is undeniably ahead of the times, putting its all at every turn into making the experience unique and unforgettable for its guests – right down to the décor and the menu options. 
As such, it's perhaps no surprise that this unforgettable and incredible bar has made a big impact on the scene for its range of delicious and authentic non alcoholic drinks – they almost make the normal spirits seem a little dull and uninspired. 
So, why not try something genuinely new tonight – whether you're trying non alcoholic drinks for the first time or if you're going for long-term sober, 34 Mayfair is the destination you need.
I would recommend the Lychee Blossom cocktail, which has a stunning honey and tea flavour that I have nearly really tasted before in a mocktail. I always prefer going for cocktails that seem original and try to be unique in their tasting profile.
If you're going out for the experience, rather than just the social side of things, the Sky Garden in Aldgate is the perfect option to consider. Located within London's iconic "Walkie Talkie" building, this rooftop oasis will make you feel like you're in the middle of the tropics rather than in the central heart of the big city.
The stunning design is (if you ask us) only made better by the bar's dedication to quality drinks for its guests – and its wide selection of non alcoholic drinks makes it a must-see destination for any London guest. Plus, entry is free, although we highly recommend booking to avoid disappointment as this incredible London observatory is really an attraction all in its own right, before considering the bar.
I would recommend the Triple Mint Mojito mocktail if you love that wave of minty fresh aftertaste. They also have some great looking gin alternatives that we must get round to reviewing.
Thus far, we've been focusing solely on bars for a big night out. However, what about the thought of going for an actual non-alcoholic night out? Well, this is where Sober Brick Lane comes in, you'll enjoy a truly irresistible bottomless brunch experience you won't forget when you opt for one of their excellent non alcoholic mocktails.
Sober infuse some of their drinks with CBD to try and recreate the same feeling you get when drinking alcohol. Naturally you don't get the same feeling you would get when you're drunk (the feeling of disorientation) but in my opinion you just feel a lot lighter, free of a little stress and the buzz to keep going rather than crashing as you usually would tend to do from alcoholic drinks.
If you are also keen to head over in the morning time you can also get CBD infused coffee and tea. Its a great experience and really does give you a natural high after consuming.
We'd recommend the orange and lime mocktail if you want fruity zest and the alternative to the alcoholic espresso martini looks as good as the alcoholic version. 
Conclusion
If you've been looking for a memorable and exciting night out in London, visiting one of the many options of non alcoholic bars might just be the option. All the passion and energy you'd expect on a night out, but without the alcohol. It's a great way to get out on the town and try new flavours without feeling ropey. Plus, you'll even find you remember the previous night without the grogginess and nausea of a particularly heavy hangover the next morning!